Major Joker Story Arcs
Batman: The Man Who Laughs (one of the latest published versions of Joker's first appearence):
Gordon found out the dead and deformed bodies of homeless men in an abandoned factory and Batman, once arriving on the scene deduced that whoever killed and disfigured them was practicing. Later, Joker's debut in live TV makes clear who was practicing and why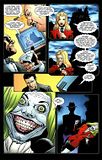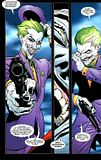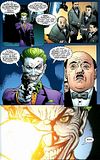 Henry Claridge, aka Joker's would be victim, has the police protecting him in his home, and Bats is secretely outside of the building, ready to intervene. All this doesn't do Claridge any good: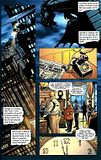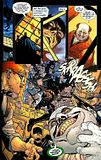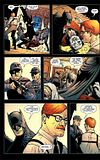 since Joker, as Batman later finds out, poisoned Claridge with a slow acting venom before even announcing he was going to kill him.
Later, Joker announced he would kill Jay W. Wilde, another rich business man. The would be victim hasn't been poisoned by the slow acting Venom, this time, and Bats & the police are ready to protect him. This doesn't stop the killer clown, who kills his target, fends off the Dark Knight, and escapes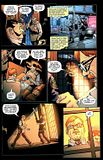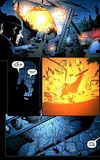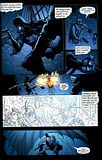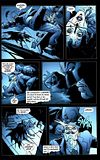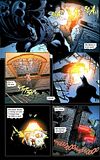 In the final showdown between Batman and Joker, while Bats manages to foil Joker's plan to kill all Gotham citizens via poisoning the water supply and, in the end, beats up the clown until he surrenders, Joker still manages to give the Dark Knight trouble by landing 2 blows and knocking Bats on the ground, while impressing him with his speed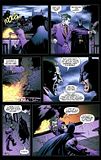 The Laughing Fish
1 - Detective Comics #475
Joker first jokerizes all Gotham's fishes, then goes to the copy-right office in order to have them copyrighted and threatens to kill the employee if he don't comply once the clown is told that what he wants is impossible to realize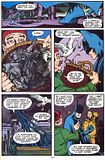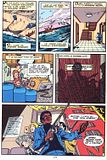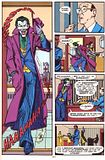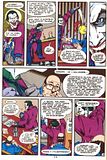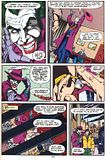 Joker proves that he keeps his promises, and the emplyoee is killed cleverly despite both Batman and the police are there to protect him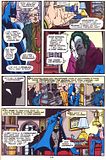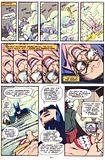 2 - Detective Comics #476
Joker threatens to kill another man if his requests aren't satisfied, and he does just that, despite his intended victim and Bats switched places to protect the former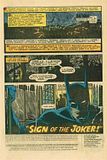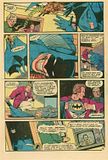 In the final showdown between the killer clown and Batman, the clown prince of crime comes close twice to kill his enemy, before ultimately ending in the river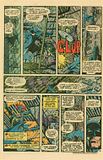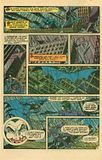 The Killing Joke
Batman visits Joker to Arkham, trying to talk & reason with him, but finds out that the killer clown escaped and left someone else disguised as him in his place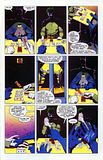 Where is Joker? Well, he is in an amusement park, "buying" it from its owner in his own lethal style, the park serving him to enact his next hit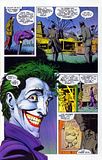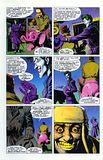 Then, the clown and his men attack commissioner Gordon in his own house, shooting her daughter (aka Barbara Gordon, former Batgirl and current Oracle) and kidnapping him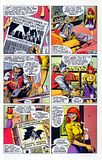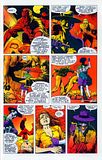 It turns out that Barbara (whom was undressed by the Joker, who took pictures of her) is crippled and may stay on a wheel-chair for the rest of her life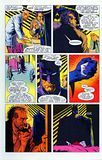 Then, Joker sets his plan, i.e. driving Gordon crazy, in motion, and arranges for Bats (who was searching for the clown) to be invited in the park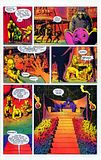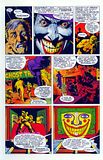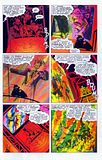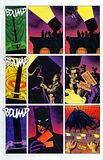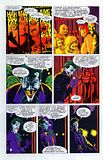 Luckily for Gordon, Bats arrives to the rescue and the commissioner's sanity of mind is preserved, then the Dark Knight pursues the killer clown in a tunnel rigged with traps. Batman and Joker finally fight, and the killer clown ends up having Bats at point blank range with his gun, which however turns out to be a toy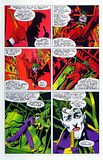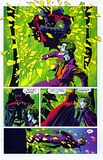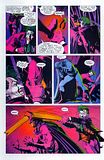 In the end, Bats tries to help the killer clown instead of just beating him up and, while Joker declines his help, he tells Batman a joke and the 2 momentarily bond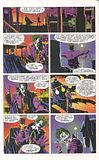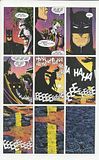 Death in the Family:
Escapes from Arkham my creating his trademark venom out of common cleaning agents, killing many guards in the process
Through a military contact the Joker gets ahold of a nuclear weapon and plans to sale it to Middle-Eastern terrorists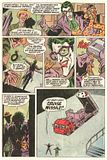 He's able to fly a Navy Ship to the middle eastern country to deliver the weapon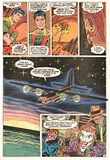 Puts the nuclear weapon on sale to the highest bidder (showing he can speak farsi!) but his plan is foiled once Batman and Robin show up preventing him from getting any money as the nuclear device is detonated due to Joker's improper programming but he manages to escape (although sad)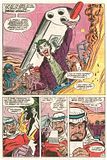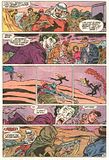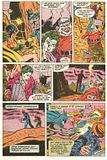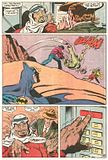 Joker blackmails Dr. Sheila Haywood threatening to expose her past in Gotham City forcing her to work for him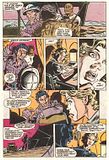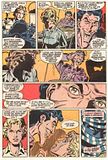 Sheila takes Joker and his men to the medical supply warehouse where he plans to switch the medicine with deadly laughing gas
Jason, already having figured out that his mother has been blackmailed by the Joker, offers to help her out after disobeying Batman's order (who stops the convoy loaded with laughing gas) not to go after her. Instead, Sheila lures Jason into a trap setup by the Joker, who beats Todd near to death and betrays Sheila anyway, leaving a time bomb inside the warehouse that detonates before they're able to escape or Batman could get to them, killing them both.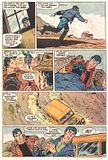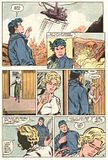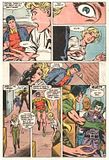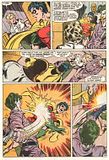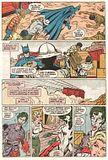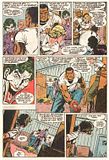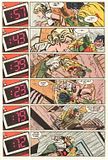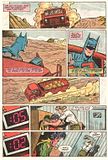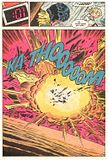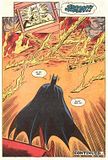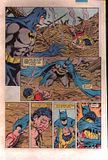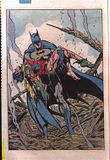 Joker is assigned Iran ambassador and kills off his own henchmen leaving a message to Batman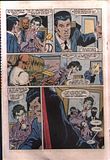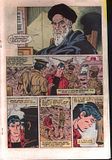 Superman confronts Batman alerting him about the Joker's new position in the United Nations letting Bruce know that neither of them are unable to touch the Joker due to the fact that it would case an international indicident. Batman upset, nearly breaks his hand on Superman's face as they turn around to see the Joker getting out a limo revealing himself to being the new Iranian ambassador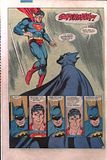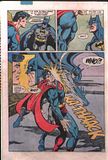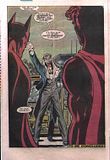 Joker as the Iranian ambassador releases lethal laughing gas to the assembly but his plan is foiled by Superman who is posing as a body guard and inhales the gas.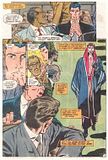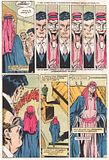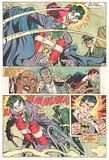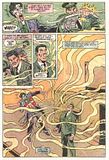 Setting off a bomb the Joker makes his escape and has a run in with Batman who chases him into a helicopter but crashes due to gunfire and the pilot being killed as Batman narrowly escapes with his life and leaves the Joker to die in the crash although his body isn't recovered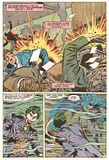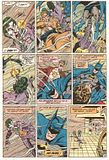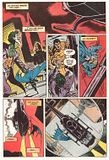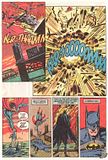 Years later, Joker reveals that he actually manipulated Jason Todd to become Robin in the first place, just so he could later cause grief to the Dark Knight by killing the boy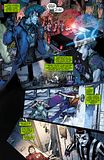 Joker's Wild
1 - Robin II: Joker's Wild #1
The clown prince of crime, helped by an accomplice and exploiting a lawyer, makes a clever escape from Arkham Asylum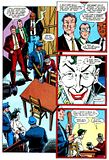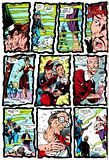 Then he arrives home and, finding out that his gang has been taken over by Mr. Freeze, makes short work of him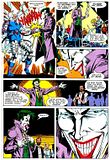 Finally, he sets in motion his next scheme and kidnap a computer genius despite Robin (Tim Drake) tries to stop him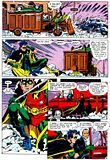 2 - Robin II: Joker's Wild #2
Joker brainwashes the computer genius he kidnapped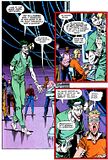 Then, exploiting a diversion he himself created, he and his men implement phase 1 of his plan by rigging Gotham's phone net. After that, Joker shots at Batman, who was on the scene, and find out it was an hologram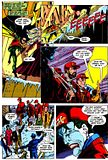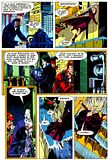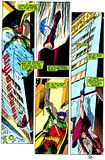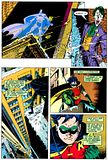 When Robin attacks him, the killer clown kicks his butt and is about to kill him, but the police's intervention saves the boy wonder and forces Joker to flee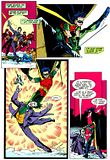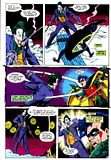 Finally, while continuing to implement his plan, the clown thinks back to him shooting at the hologram of Batman and realizes the truth: Batman is out of town and Robin is alone!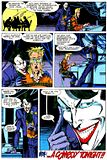 3 - Robin II: Joker's Wild #3
Joker's plan is executed and revealed: take control of Gotham's informatic net and use it to send the city in utter chaos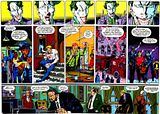 Then, the clown prince of crime delivers his ransom note big style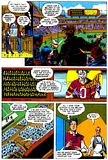 Robin tries to locate and access the central computer Joker and his captive genius are using to control the rest of the systems linked to the phone company's main terminal, but he only obtains to have the bat computer invaded, forcing the boy wonder to shut it down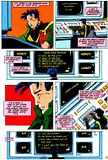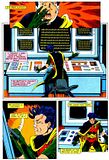 Then, the killer clown wrecks more havoc in the city, leading it to be declared a disaster area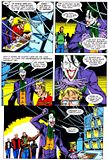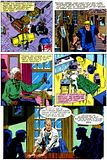 4 - Robin II: Joker's Wild #4
It's the showdown between Robin and Joker: the Boy Wonder managed to find out how to track down the brainwashed computer genius and to ruin the clown's plans, then confronts for the second time the clown prince of crime himself. Robin manages to take out Joker's men, but the clown himself ambushes him and is about to finish him. Luckily for the boy wonder, he manages to turn the tables on Joker at the last moment.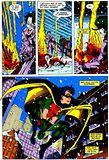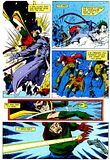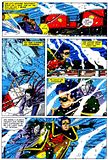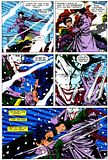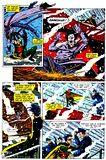 No Man's Land
1 - Batman #574
Just when Gotham is on the verge of being re-united with the rest of the USA, thus ending the year of isolation, Joker decides to make his move. He attacks Bill Petitt's strong men (a group of rouge cops) and, after killing some of them (the sentinels), he lures the rest out from the house they were in and arrange for them to be killed by Petitt himself, whom is then killed by the killer clown himself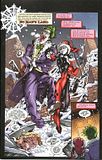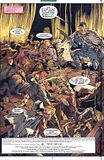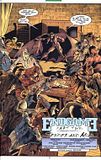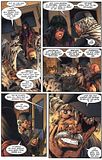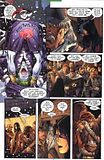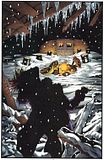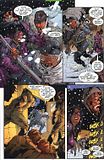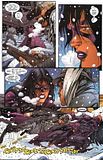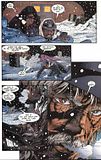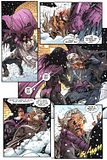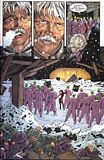 Then, once Huntress (who didn't obey Joker's request to let him enter the house and take the babies there) disposes of Joker's men, the clown shots her 3 times (she is saved by Batman and Nightwing's arrival just when he was about to deliver the killing shot)
2 - Detective Comics #741
It turns out that Joker's plan is to kill all the infants in No Man's Land he managed to kidnap, in order to kill hope, as Batman found out thanks to Huntress (who is in critical conditions because of the clown) and his own investigation, as per what he tells Gordon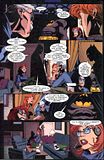 The Batsquad and the police assemble to track down Joker and the babies, but the killer clown has a disguised Harley Queen lead them to a marry chase, while he sneakes in the police central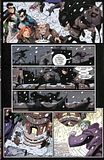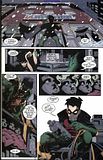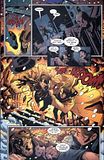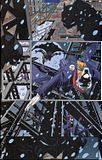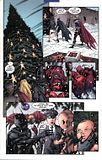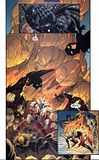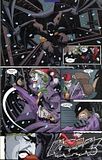 Batman, after catching Harley Queen, learns from her that Joker has the babies in the central and has Oracle deliver the news to the others in order to all go there, but Sarah Essen Gordon (the commissioner's wife) had a broken radio and had already departed to the central to take a new one. When she arrives, she finds the killer clown, who killes her and surrender to Batman and Gordon, who have arrived too late to arrive on the scene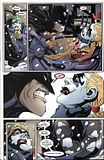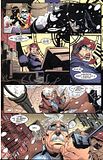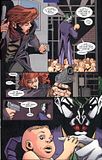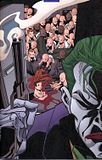 When the commissioner learns that Joker kills his wife and hit him, the clown taunts him in order to have Gordon kill him, thus breaking the law (since Joker had already surrendered), but Gordon instead shoots him to the knee. After being initially shocked because he may never walk, Joker thinks he caused the same to happen to the commissioner's daughter, "gets the joke" and bursts in laughter, while Gordon orders him to be arrested and falls in Batman's arms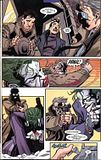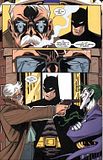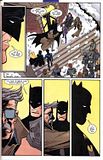 "Emperor Joker" saga:
1 - Superman: Emperor Joker
While Joker presents his own Justice League and Ignition chases Superman, Steel and Mxyptlk, the Earth is shown as being re-made in Joker's twisted image, shocking Supes (who, in this Earth, is a wanted criminal who escaped from Arkham, and didn't remember his true identity until Mxy made his memory return)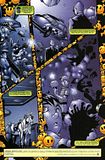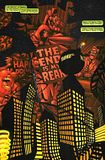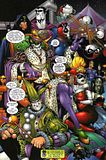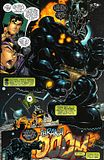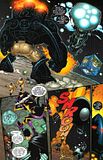 Supergirl is attacked by flying Joker-pirhanas (she is later saved by Superboy)
That's how Two Face looks like in Joker's world
Wheras the once mighty Luthor is just a court jester and you don't want Emperor Joker to get hungry
How did the Earth get remade in Joker's image? Well, Mxy went to Joker to concede him 1% of his powers in order to have fun in seeing the chaos the killer clown would have caused with said power, but the Joker tricked the 5th dimensional imp in giving him 99,9% of his powers. Which Joker put to "good" use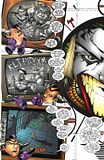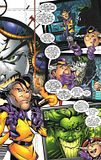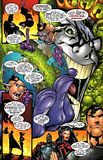 That's what "our" JLA became in Joker's world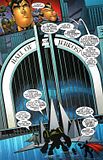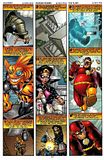 Here is Emperor Joker playing with the Robins
First it's revealed that the Quintessence (Zeus, Highfather Izaya, Ganthet, Shazam and Phantom Stranger) are under Joker's sway, then also Darkseid falls prey to the killer clown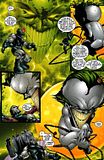 2 - Superman #161
Joker easily ressurects Luthor (who was killed by the killer clown earlier), then murders him on a whim
That's how Gotham City looks like, now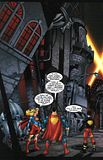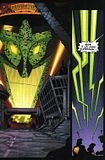 Where is Batman? He is dead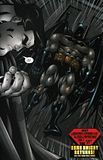 3 - Adventures Of Superman #583
Superman buries the Dark Knight, but, due to Joker, Bats ressurrects.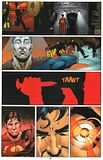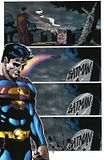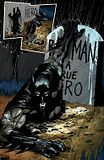 Lois Lane, in Joker's world, is pratically a female Luthor (she is even bald and wears a wig!), so she is ready to betray Superman.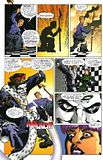 Supes, having found out that Batman is alive, comes to help him, but the 2 are attacked by murdering clowns and Bats reveals that every night he is killed and then ressurected, to start the torture again. This had a serious effect on Batman's confidence (it takes Superman to inspire him (causing Gotham to turn back to normal for an instant in the process) in order to have Bats return confident and shake off Joker's hold (something that Kal accomplished earlier))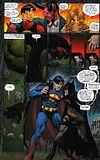 Batman, Superman, Steel, Mxy, Superboy and Supergirl confront Joker (who first was worried about Supes and Bats' "awakening", then welcomed it as a worthy challenge). The killer clown first has his own JLA and the changed mainstream one fight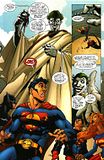 Then, when Bats, Mxy and the Superfamily enact their plan teleporting in Joker's mind (thanks to Mxy remaining power and Supergirl) and mentally attacking him through S-girl, Joker has Lois betraying the heroes and exposing a K-ring to Supes, so the Man off Steel's faith is shattered and the attack against the clown ended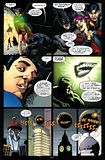 Finally, to prove a point, Joker destroys the universe and effortlessly remakes it, with the heroes turned in pets, Mxy discorporated and Lois Lane as his empress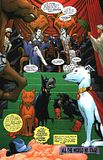 4 - Superman The Man of Steel #105
Things definetly don't look good for the heroes: the Super-family got turned in pets, while the mainstream Justice Leaguers got turned in mice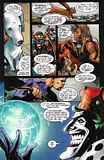 Then, Joker grows bored and, while Batman hangs chained on a wheel, the clown returns the Leaguers to their Joker reality's forms and decides to start a new game. He has Supes live an horrible life to break him, while forcing Bats to watch in order to punish him. But Superman manages to "leave the game" and "dies"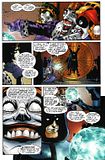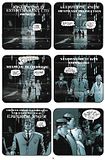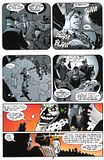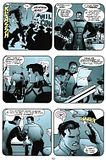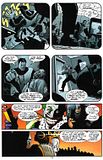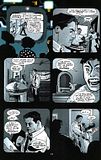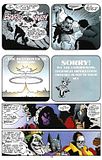 Superman, summoned by the Spectre and asked by him to stop the Joker before it's too late for the space-time continuum, watches as the Wrath of God falls prey to the killer clown
Then, the Man of Steel experiences another dose of nightmarish reality and is almost broken when he seemingly causes Lois' death, but he ends up managing to break Joker's hold over him (forcing him to end the farce), causing the JLA to "awaken", as well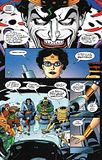 5 - Action Comics v1 770
It seemed things were turning well for the heroes once the JLA reverted back to normal in the previous chapter of the saga, but Joker easily wrecks the whole team single-handedly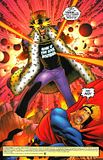 Then, while having a reduced in size and laughing Spectre in a cage, the killer clown decides to destroy the universe for good!
Superman and a mouthless Batman end up imprisoned. Bats is determined to cross the line and kill Joker, but the clown anticipates him and has vultures devour him, to Superman's horror. The Man of Steel also realizes that the Dark Knight went through deaths as horrific as this one every single night since Joker gained Mxy's powers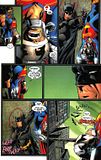 Joker explaines Harley Queen why he wants to destroy the universe, then turns her in a costellation
Just when he is about to end everything that is, Joker is killed by Ignition and the clown's own League is ready to replace him as ruler of the world, but it seems the Joker can't stay dead
Later, Joker confronts Superman and Lois, the latter having betrayed the emperor. As shown, even the likes of Waverider and Doc Fate are under Joker's control. After having stomped Supes, the clown kills Lois but Superman bursts at super-speed through his body, from his foot to his head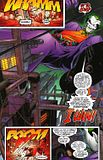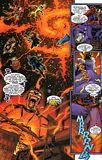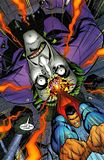 This, however, isn't enough to stop Joker, who knocks Supes in orbit. The Man of Steel is saved my Mxy (who got freed off-panels earlier)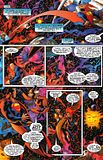 Then, Joker destroy the Earth, goads Kal into killing him, and when Supes doesn't comply, the clown literally rips his heart out of his chest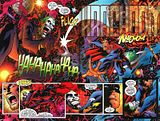 In the end, while Supes managed to stop Joker by exploiting his obsession with Batman, the power got returned to Mxy, and the world & the universe got fixed by the imp and Spectre, the clown has almost the last laugh. In fact, Bats is broken, and it takes Supes to have Spectre take all Bruce's memories of what happened and place it in Superman's mind, in order to fix things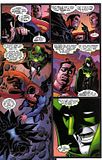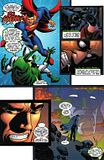 Joker: Last Laugh Crossover:
1 - Joker: Last Laugh #1
Joker is imprisoned in the Slab, a maximum security prison for metahumans, and is told that he is going to die because of a brain tumor. How does he react? First, he experiences all the seven stages of grief in 5 minutes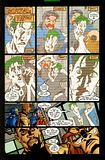 Then, he causes a riot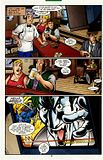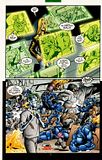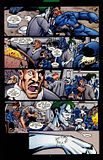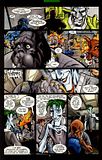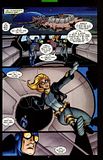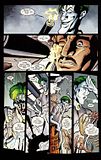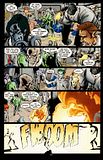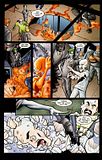 After that, he finds a way to have the prisoners break free from their restraining collars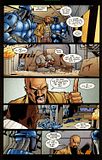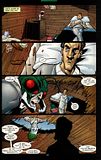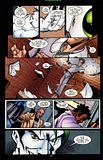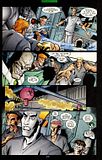 Finally, showing that Joker forsaw to the minimum detail how the Slab's security would have reacted to the riot and played on it, his plan is revealed and executed: an army of Jokerized super-villains is created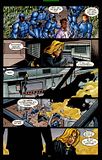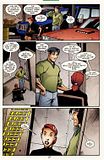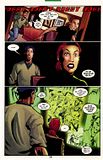 2 - Joker Last Laugh #2
Joker and most of the inmates escape from the slab and blow their exit tunnel up, while the killer clown arrange for the slab to be disposed of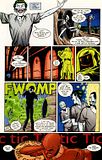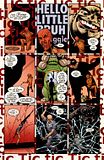 As per Joker's instruction, Black Mass causes a mini-black hole that sucks in the Slab and its remaining inmates and surviving guards (which will remain there till the end of the crossover, among them Shilo Norman (aka Mr Miracle III, Scott Free's former apprentice)), almost doing the same with Nightwing and Batman (who rescued a beaten up by Jokerized inmates Black Canary and took jokerized Spellbinder out)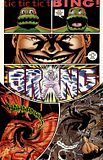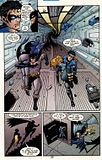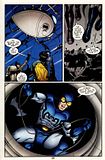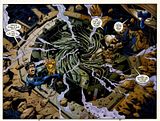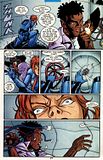 3 - Superman #175
Joker breaks in a security chamber in the Pentagon, killing 2 guards in the process, and awakens Doomsday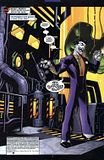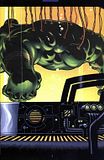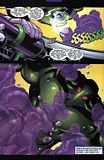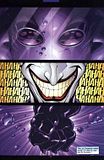 4 - Joker: The Last Laugh #3
That's how the Earth appears to the JLA on the Moon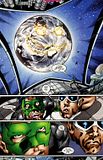 Joker sends the Jokerized supervillains to wreak havoc across the world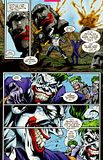 forcing US President Lex Luthor and his security committee to assemble in order to study the situation and deciding how to fix it, deciding in the end to move to Defcon One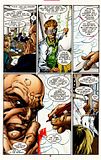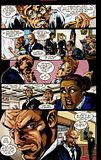 Meanwhile, Joker has flowers sent to Commissioner Gordon to "honor" his late wife Sarah Essen Gordon, killed by the killer clown during "No Man's Land"
Among other things, Joker sent New Chemo (created in Joker: Last Laugh #2 under his instructions) to spill nerve toxins in lake Ontario in Canada
Later, the Jokerized supervillains wreack some more havoc across the world, while Joker plans one of his next moves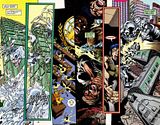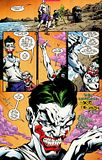 5 - Spectre v4 #10:
The Spectre (Hal Jordan) attempts to end Joker's global reign of chaos that he caused by dosing nearly every villian and a couple of heroes with his joker toxin by invading the Joker's mind to take him out but is quickly overpowered by the sheer madness in his mind forcing him to retreat and as a result causes Parallax split from him who becomes jokerized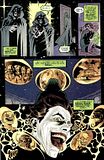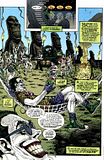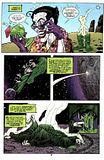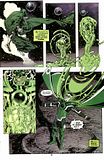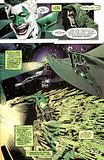 6 - Adventures of Superman #597
Joker causes Luthor to be jokerized. Luthor first starts a re-election campaign well in advance, causing vice-president Ross and his cabinet to worry and to decide to send a taskforce to capture him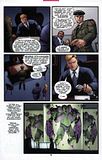 Then, when Superman intervenes, Luthor has all the US nukes to be launched, thus risking to cause a nuclear world war (Supes ends up solving the situation and subduing Luthor, who'll be later healed)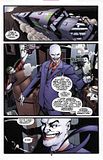 7 - Joker: Last Laugh #4
In answer to Luthor declaring war to him, Joker set things in motion to change the weather...literally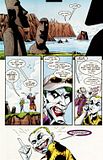 Meanwhile, Batman & co find out that the Joker venom is going to kill the jokerized supervillains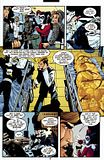 against whom the US army intervenes, arriving to take measures as extreme as throwing a daisy cutter in Atlanta, wrecking the city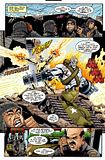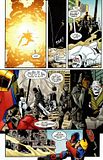 Joker's reaction? First he sends supervillains to attack Luthor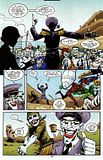 Then, he launches a full scale attack on various places, including Arkham Asylum, while we are revealed that Joker isn't really dying, but a doctor played a prank on him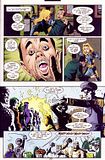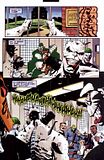 Finally, a Joker rain is unleashed on the world, jokerizing also civilians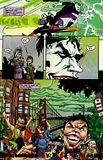 8 - Green Lantern #143
Even Grayven, aka a New God and one of Darkseid's sons, gets jokerized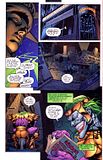 9 - Wonder Woman #175
Joker's venom can affect also the powerful sorceress and demigoddess Circe (albeit she doesn't die and, later, reverts herself back to normal)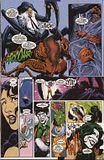 10 - Joker: Last Laugh #5
Arkham's inmates are jokerized and Robin is captured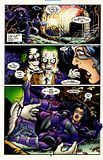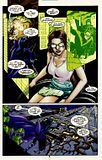 While Batman and the League arrive in Joker's hideout and find out his "to do" list and part of his plans, the clown sends the Dark Kight a message through Nightwing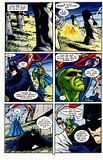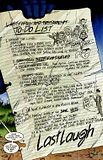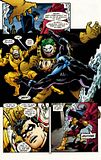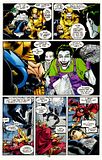 Meanwhile, Huntress fights Killer Croc and finds out that Robin was seemingly killed by him!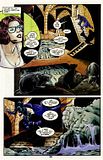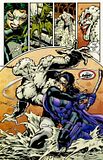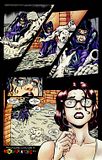 11 - Action Comics #784
Metropolis is overrun by chaos. A cause of such havoc is the "crazy rain" unleashed by the Joker, who turned normal citizens in crazy people, and Superman is forced to intervene to fix things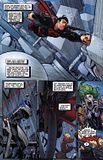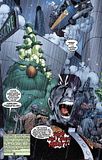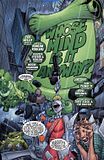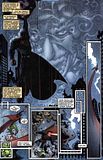 But the Man of Steel guesses that the rain isn't the only cause of the chaos, and Batman, who just arrived on the scene, reveals him who else is responsible: what appears to be a jokerized Green Lantern Kyle Rayner!
In the end, when the heroes finally are about to settle things right, it turns out that it wasn't a jokerized Green Lantern who was behind everything, but it was a construct created by the subconscious of an unconscious due to Joker's toxin GL, as Bats deduced
12 - JLA #59
As per Superman's revelation, if the antidote to Joker's poison isn't administered in time, it's ineffective, thus meaning that being jokerized becomes either permanent or lethal
After seeing a magnetic storm, the JLA finds out that a jokerized Doctor Polaris is absorbing the south pole, therefore the Leaguers set in motion to stop him, but arrive only when Polaris has already absorbed the South pole (in the end, after Doc Polaris disabled almost the whole team temporarly, it takes Batman's plan and the cooperation of almost every team-member to stop him).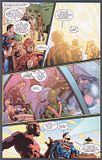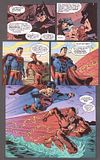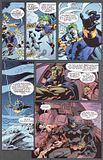 13 - Joker: Last Laugh #6
While a force-field prevents anyone save for the Bat Family to enter Gotham Cathedral, and Jokerized supervillains keep busy Batman himself, Spoiler and Huntress, Nightwing confronts the Joker. The killer clown goads Dick into killing him, and 'Wing, enraged because of Joker's taunts and Robin's apparent death, does just so. Therefore, despite Joker is brought back to life by Batman and the crisis is adverted, the clown has the last laugh, since he had one of the Bat-crew cross the line and take a life. What's more, it turns out that Robin was alive and well, meaning that Nightwing killed Joker for something the latter didn't do or cause